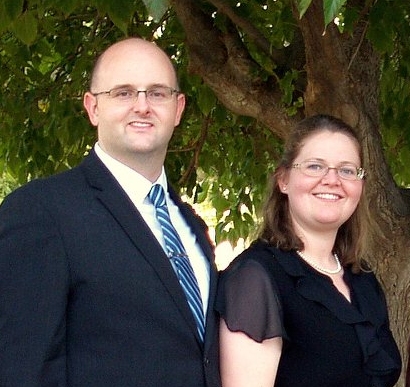 Senior Pastor Skylar Bernick and wife Heather Bernick
Skylar came to Christ while studying Philosophy at Arizona State University. After reading many, many religious texts he turned to the study of the New Testament. While working to find contradictions in the Christian faith as he had in so many others, Skylar found something (really someone - Jesus!) in the New Testament that he had not found anywhere else. Skylar found that the Christian position to be not just logically coherent and philosophically defensible, but true!
He became convinced that he is a sinner deserving death, but that God's gift of eternal life is freely available through repentance and faith in Christ's death and resurrection. He was baptized and grew under loving biblical discipleship at Berean.
After graduating from ASU, God opened a door for Skylar to assist a missionary family in arctic Alaska. While ministering in various capacities in the small villages of Alaska, Skylar became convinced of his call to dedicated Gospel ministry. He returned to Arizona in 2011 to earn his Masters of Divinity while serving as a pastoral intern at Berean, as well as ministering and training in the Army chaplain candidate program. After graduating from seminary, Pastor Skylar was ordained in 2015. Shortly afterward he married his lovely wife and best friend in the world, Heather.
Pastor Skylar directed the education ministries as an associate pastor at Berean from 2012 to 2018. In October 2018 Berean called Pastor Skylar into service as the Senior Pastor. Pastor Skylar's immediate goals include the spiritual and physical growth of Berean, evangelizing the lost and making disciples of Christ, proclaiming and defending our faith through rigorous Christian education, completing his doctorate, developing his skills as a writer, and making the perfect cup of coffee.
Youth Ministry Pastor Gerald Penny and his wife Megan
Gerald Penny was blessed to have been raised in a Christian home. At age 12, he placed his complete trust in Jesus Christ, and felt lead by God to enter full-time vocational ministry. God lead Gerald to International Baptist College and Seminary in Chandler, Arizona, where he would receive a BA in Christian Service in 2013 and an MA in Ministry in 2015. While attending IBCS, he met and married his best friend, Megan. God has, thus far, gracefully blessed them with one daughter, Hailey.
The Pennys enjoy going out to eat, spending time with friends, and hanging out with their family.
Knowing that God was leading them into vocational ministry, God eventually directed them to Berean Baptist Church, where they have been serving on staff for over 2 years now. It is their sincere desire to continue serving God in whatever compacity He so chooses.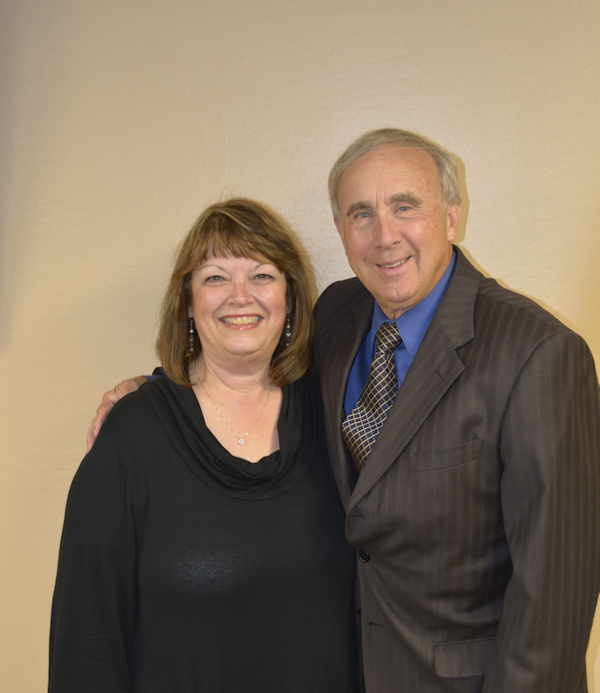 Pastor Emeritus Keith Gephart and his wife Cindi
Pastor Gephart was born in Elizabeth, Pa, one of three sons to David & Vera Gephart. He was saved at 15 years of age at an evangelistic meeting in western Pennsylvania. One year later God called him to full time
ministry. He attended Bob Jones University in Greenville, SC and graduated with a BA in Bible in 1970, an MA in Bible in 1971, and a Ph. D in Old Testament Interpretation in 1976. While in grad school he served as a graduate assistant teaching English.
In 1974 he married Cynthia Gembola from Buffalo, NY whom he met at BJU. God has blessed Keith and Cindi with four children: David, Kimberly, Jonathan, and Jeremy. They now have 15 grandchildren.
In 1976 Keith became pastor of Grace Baptist Church in Windsor CT. The church grew from 35-110 in three years. In 1979 Dr. Gephart was called to teach at the San Francisco Baptist Theological Seminary where he worked for 9 years. During that time he became pastor of Calvary Baptist Church of Alameda, CA. That church in 8 years grew from 15 people to about 150.
In 1988 the Lord called Keith and Cindi to pastor Cindi's home church in Buffalo, NY: Hedstrom Memorial Baptist Church. Dr. Gephart led the church through a building program and moved it to Cheektowaga, NY where the church continues to this day. This church also witnessed healthy growth from 75 to well over 150.
In 1998 the Lord called the Gepharts to Tempe, AZ where Keith would teach at International Baptist College and Seminary for 14 years, teaching many Bible, Theology, and Pastoral courses, in addition to Greek and other courses. He was also Dean of Students and the Director of Student Life. Cindi obtained her nursing degree while in NY and has served as a nurse ever since, as well as being heavily involved in the church ministries.
In 2008 Keith was called to pastor Berean Baptist Church of San Tan Valley, AZ. At the time the church had 35 people and met in a modified mobile home. Since that time the church has purchased additional property and converted a house into a larger church auditorium. The church continues to grow, and the Lord has blessed the church with 2 young pastors—Bible College/Seminary graduates—who were trained under Pastor Gephart and now have succeeded him to the leadership of Berean Baptist Church. Pastor Gephart stepped down from the full-time pastorate on Oct. 28, 2018 and became Pastor Emiratis. He and Cindi continue to serve in the congregation.